HOME INSPECTION COMPANY FOR NEW ALBANY AND ALL OF SOUTHERN INDIANA
---

CHECKED RIGHT HOME INSPECTIONS
100% GUARANTEE
My personal GUARANTEE to you paid by Checked Right Home Inspections. If you are not happy with my Inspection Services let me know at the end of the inspection when we do our consultation services on my findings and you will not be charged anything. If you are not there for the consultation findings then you have waived this right.
---
---
---
---
I would like to explain to you about this guarantee. Some client's wonder why would you have something like this because if you're good you shouldn't miss anything and that is correct. Other companies (competition) may tell you that since we have this guarantee we do not care if we miss anything and that is not correct.
Actually we try harder because we would not want to miss anything on your dream home. Why would we want you to have to go through this type of thing? In realty though no matter how good we are there are things that are hidden. That is where this protection comes into play. You have a little guarantee 90 days from closing not 90 days from the inspection date.
https://www.youtube.com/watch?v=_nzWi4FeUn4
https://www.youtube.com/watch?v=5pQpMt8_zx8
---
CHECKED RIGHT HOME INSPECTIONS IS A LICENSED INDIANA HOME INSPECTION COMPANY. ALL MY INSPECTIONS ARE PERFORMED ACCORDING TO THE INDIANA STATE STANDARDS.

---
I now offer FHA/HUD/VA Engineered Foundation Certificate Inspections for Manufactured Homes.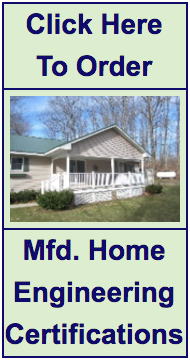 ---
I bought these domain names because these were also the communities I worked in when I was a General Contractor.

ScottsburgHomeInspections.com
NewAlbanyHomeInspections.com
JeffersonvilleHomeInspections.com
ClarksvilleHomeInspections.com
FloydsKnobsHomeInspections.com
---


I consult with you after my findings to help you repair any deficiencies without having to hire a contractor. The items I mention will help you save money.
---

LOCATED IN SALEM INDIANA SERVING WASHINGTON COUNTY, CLARK COUNTY, HARRISON COUNTY, ORANGE COUNTY, SCOTT COUNTY, FLOYD COUNTY, JACKSON COUNTY, CRAWFORD COUNTY, INDIANA AND THE CITIES OF SALEM, SCOTTSBURG, PAOLI, FRENCH LICK, CLARKSVILLE, JEFFERSONVILLE, NEW ALBANY, FLOYDS KNOBS, CORYDON, SEYMOUR AND ALL SURROUNDING AREAS.
---

ACCESS READY WITH SUPRA
INDIANA LICENSE #HI01000052
---
I accept Visa, MasterCard, American Express, Discover
Member of: WASHINGTON COUNTY BOARD of REALTORS, SOUTHERN INDIANA REALTORS ASSOCIATION (SIRA), WASHINGTON COUNTY CHAMBER of COMMERCE, INTERNATIONAL ASSOCIATION of CERTIFIED HOME INSPECTORS
---

Residential, Structural, Systems & Components Inspections - Pre-Listing Inspections - VA Inspections - New Construction - Chinese Drywall - United States Department of Agriculture (USDA) Inspections - FHA Inspections - Termite (WDI) - Mold Testing - Radon Testing - Water Quality Testing - Well Water Flow Rate - Septic Dye Testing - Lead Paint Testing - Asbestos Testing - Air Quality Testing - Gas Leak Detection - Carbon Monoxide Testing
---
812-896-6210



Linkedin
Bookmark/Search this post with
Navigation